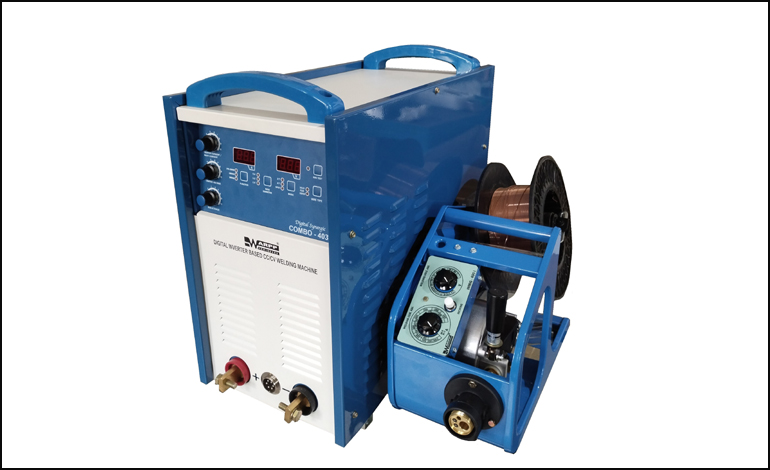 Inverter based Multi-process Welding Machine Model COMBO-403 i / 503 i
COMBO series machines are multi process machine with CC / CV characteristics. These machines use advanced soft-switching IGBT based inverter technology. They are widely used for GMAW/FCAW welding and SAMW welding in acid and Basic electrodes. They can also be used for GTAW (Scratch start) in all
FEATURES
Advanced Soft Switching technology.
Digital Microprocessor based.
Synergic Mode available.
Flux/Solid core selection
Spot/ Stitch welding Time can be set.
Pre flow, Post flow of gas can be set
Inductance control
Crator fill function
2/4 step function
Easy arc striking, less spatter stable current and excellent welding characteristics
Higher operating frequency and hence low volume and weight
Excellent arc voltage and current feedback circuit.
100% Duty cycle and suitable for heavy industrial use.
Higher efficiency and better power factor.
Higher Open Circuit Voltage.
Basic Outfits:
Power Source , Wire Feeder with interconnecting cable, MIG welding Torch, Regulator flowmeter with Pre heater
Model

COMBO-403 i

COMBO 503 i

Rated Input Voltage

380 ~ 440 Volts 3 Phase 50 Hz Supply

Input Power (KVA)

18.0

26.5

Output Voltage Range (GMAW)

16 ~ 40

16 ~ 50

Welding Current Range (A)

50 ~ 400 (GMAW)
50 ~ 400 (SMAW )

60~ 500 (GMAW)
60 ~500 (SMAW)

Duty Cycle (%)

100% (400 C and 10 Min)

Full Load Efficiency(%)

89%

Power Factor

0.9

Weight (kg)

42

45

Dimensions (LxWxH)

610 X 300 X 590

610 X 300 X 590

Insulation Grade

H

Wire Feed Speed (m/ min)

1.3 ~ 21 m/min

Torch Connection

EURO Type

WIRE FEEDER

Motor Type

Print Motor

Four Roll Drive

Weight

10 Kg