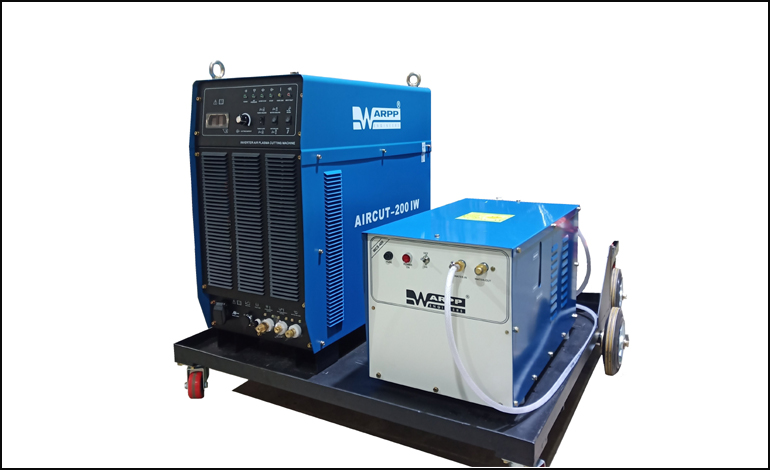 INVERTER BASED AIR PLASMA CUTTING MACHINE AIRCUT - 200 IW
AIRCUT-200 IW, AIRCUT-300 IW machine are inverter based air plasma cutting machine. It is widely used for cutting ferrous as well as non ferrous metals using inexpensive compressed air as the cutting media.
FEATURES
Advanced 'Soft switching' technology, hence more reliability
High Frequency Arc Striking with Pilol Arc.
Stable Out Put Current
100% Duty cycle machines
Precise preset & display of cutting current.
Two levels of air flow system to ensure smooth pilot arc.
Up sloping of current to increase the consumable life.
Higher on load voltage and hence higher speed of cutting.
Bigger output inductor for extra smooth DC output which result in better cut finish
Protection against thermal over load .
High power Factor & Efficiency.
Good Cutting Quality.
Continuous Adjustment of Current Possible.
Built in water circulation system
Suitable for hand held & mechanized torch.
Basic Outfits : For Air cut 200/300 IW
Power Source along with water cooling system
Air filter
Water cooled plasma cutting torch 5 meters length.
Earthing cable with clamp.
3 Nos. Sets of Electrode & Tip, Front ceramic cap.
Optional Accessories
Machine mountable Straight torch
Cutting trolley 2 rails of 1.8 meters each
Torch pendent for ON/OFF control