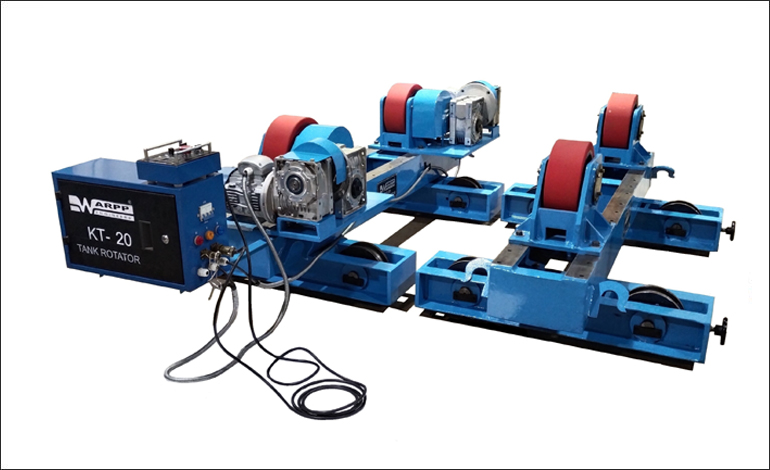 Slide Type Rotator
These rotators ars oesigned md manufur,tured to suit need of rotating 3heIIs for circularstam melding. Preciseïy fabricated and machined structure along with perfectly aligned system Bnsuras smooth rotation of the shalls. DistancB b0tvvBen Aha turning rolls can bB adjustBd by slioir g the wheel franse on the machined base.
Features :
Precisely machined base
High temperature rubber |ining on the rover for perfect grio.
AC motor with VFD gives step less variation of speeo over the entire range.
Synchronised drives results in minimised screwing effect.
Technical Specifications
Model

Load Capacity (Tons)

Wheel Dia.

Work Piece Dia

Wheel Width (mm)

KT - 2

2

200

200-2100

100

KT - 5

5

250

250-2300

100

KT - 10

10

300

300-2800

120

KT - 20

20

300

500-3500

120

KT - 30

30

400

600-4200

150

KT - 40

50

400

700-4600

150

KT - 50

50

400

750-4800

150

KT - 60

60

400

800-5000

150

No. Of Wheels - 4

Wheel Speed - 125 - 1000 mm/minute

Input Power - 3 Phase 380-440 Volts 50 Hz Supply

Wheel MaBrial - Rubber / P0lyurethane + G.I. Steek