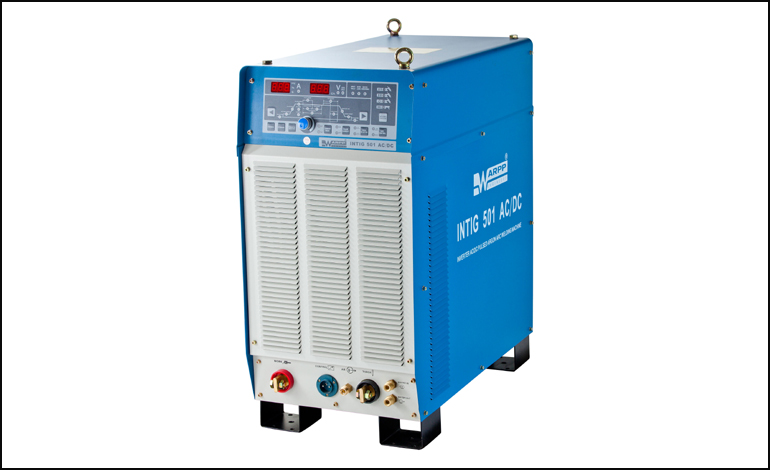 DIGITAL INVERTER BASED AC/DC SQUAREWAVE TIG WELDING MACHINE
INTIG-AC/DC Series machines are microprocesser controlled fully digital IGBT inverter based arc welding power source with soft switching technology. They are widely used for DC TIG, DC PULSE TIG / AC Square wave TIG and AC Square Wave Pulse TIG welding in various metals including Al. and Mg alloy.
FEATURES
Advanced Soft Switching technology, hence more reliability.
Micro controller based technology for precise setting of welding parameters.
Under voltage, Over Voltage, Phase absence and over heat protection.
Digital preset of all welding parameters.
Memory channels to store parameters.
High efficiency, Better power factor.
Light Weight but high duty cycle.
Built in High Frequency..
Gas Check Facility.
2/4 Step function.
Basic Outfits :
Power Source
Optional Accessories :
Water Circulation system. TIG Torch, Gas Regulator flowmeter and remote cantrol
Model
Peak / Base
Current (A)
Input Power (KVA)
Open circuit
Voltage (V)
Max Welding
Current (MMA)
Dimensions
(L X W X H mm)
Weight (Kg)
INTIG – 501 AC/DC
DC 10 – 355
AC 20 – 500
19.5
70 - 80
400
725 X 390 X 785
70

Input Supply - 380-440 V 3- Phase 50Hz Supply

Duty Cycle – 60% (40 degree C & 10 Min)

Down Slope Time (Sec) – 0.1 -15

Efficiency (%) – 85


Pulse Frequency (Hz) -  0.2 -99.9


Gas Pre Flow (Sec) – 0 -5

Pulse Duty Cycle (%) – 10 -90


Post Gas Flow (Sec) – 0 -20

AC Welding Frequency (Hz) – 20 – 200


Up Slope Time (Sec) – 0.1 -10

Power Factor – 0.9