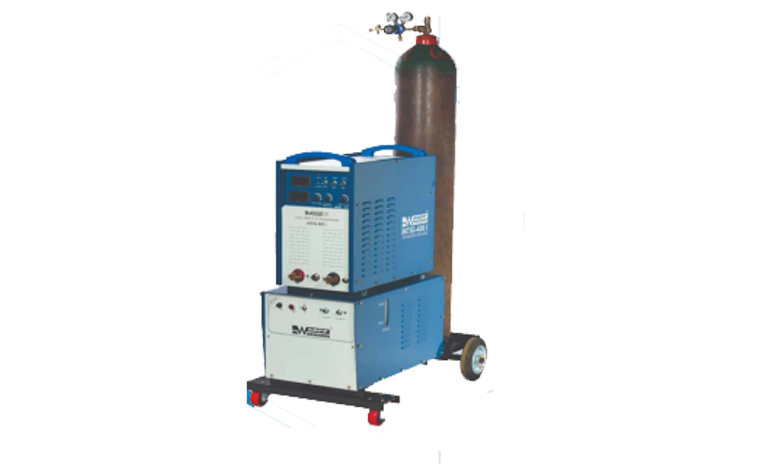 Inverter Based MMA / TIG Welding Machine
INTIG I series machines are IGBT invener based arc welding power source with soft switching technology.They are widely used for manual metal arc welding with acid and basic electrodes for TIG welding of various metals.
FEATURES
Advanced Soft Switching inverter technology & high frequency
Digital display of current with precise preset function.
High power factor.
High switching frequency, hence low volume & weight
Adjustable arc force in MMA.
Built in High Frequency.
2/4 Track function in TIG.
Adjustable Down Slope function in TIG.
Can be used with extended welding cable in MMA
Basic Outfits :
Power Source
Water cooling system
TIG torch 4 mtr or 8 mtr (WP-18/ WC-400)
Argon Regulator with Flow meter
Trolley
2 mtr earthing cable with clamp
Starter kit
Model
Input Power (KVA)
Current Range(A)
Duty Cycle
Weight (Kg)
INTIG - 400 i Power Source
18.4
20-400
100%
43
INTIG - 630 i Power Source
35
30-630
100%
55

Input Supply - 380-440 V 3-Phase 50Hz Supply

Open Circuit voltage - 75 - 85 Volts

Insulation Grade -H

Efficiency at full load (%) - 89


Power Factor - 0.9

Input Power (KVA)
Water Tank Material
Tank Capacity
Type of pump
Pump Capacity
Cooling Fan
Radiator Type & Size

WCS-400
(Water Circulation
system)

230 Volts Single Phase 50 HZ Supply
PVC
24 ltr

Spec. designed Brass centtifugal Pump for longer life & non corrosion

0.125 HP
High Speed
255*230 mm with three row copper Pipes.